Susan Gottschick, artist
Vortex - Sweeping Euphoria
Regular price
$999.00 CAD
Regular price
Sale price
$999.00 CAD
Unit price
per
Sale
Sold out
'Vortex — Sweeping Euphoria' is a companion to 'Sweeping Passion' and 'Sweeping Drama'. The three of them complete the dance of dark and light swirls and contrasts. Acrylic and textured paste on canvas.
For Originals & Giclée Prints select from product sizes above (paper prints have an additional 2" white border on all four sides, eg. 24" x 24" print comes on 28" x 28" paper). For information about Prints & Commissions see below.
To view other paintings from the VORTEX series, click here.
Share
Convexo Canvas Print & Paper Print descriptions

Consider a high-quality made-to-order Giclée print of the original that is printed with archival pigment inks on Heavy Canvas or Fine Art Textured Paper. Multiple sizes are available for each painting — please choose a size above to see the price.

Fine Art Textured Paper is a heavy weight, cold-pressed paper that has a natural white finish with a coarse, structured surface equivalent to traditional watercolor paper. Prints on this paper feature fine detail, vivid colours and deep blacks.

Paper Giclée prints have an extra 2" border of white paper beyond the image on all sides (eg. 24" x 24" print is on 28" x 28" paper). The round painting image retains the appearance of the original's curved edge and floats within that square space.

Canvas prints mounted on the Convexo (curved-edged) canvasses have artwork cropped-in slightly to ensure crisp fidelity during print reproduction. See the photo labeled as 'Cropped simulation of print reproduction' in the above product photos.
Original Painting & Convexo Canvas Print details

Convexo canvas, 1.125" (3cm) thick acid-free cotton canvas with curved edges.

Originals may have 3D raised textures and vary in degree of shine depending on mediums used.

Canvas Prints do not have 3D raised textures and are high-quality Giclée-printed reproductions.

Canvas Prints are high-quality made-to-order Giclée-printed reproductions.

Treated with spray-sealant and UV archival protection.

Ready to hang with pre-installed hardware.

Sent with a signed certificate of authenticity.
Shipping information

We ship worldwide. Originals ready to send in 2 to 5 business days (does not apply to Commissioned artwork). Custom, made-to-order prints ready to send in 4 to 6 weeks (usually 4). Shipping speed (and price) is chosen by purchaser at checkout. Click here for further shipping information.
Colour fidelity

Photos we use are calibrated true to the actual colours, but they may appear different depending on your computer monitor, mobile screen and/or room lighting.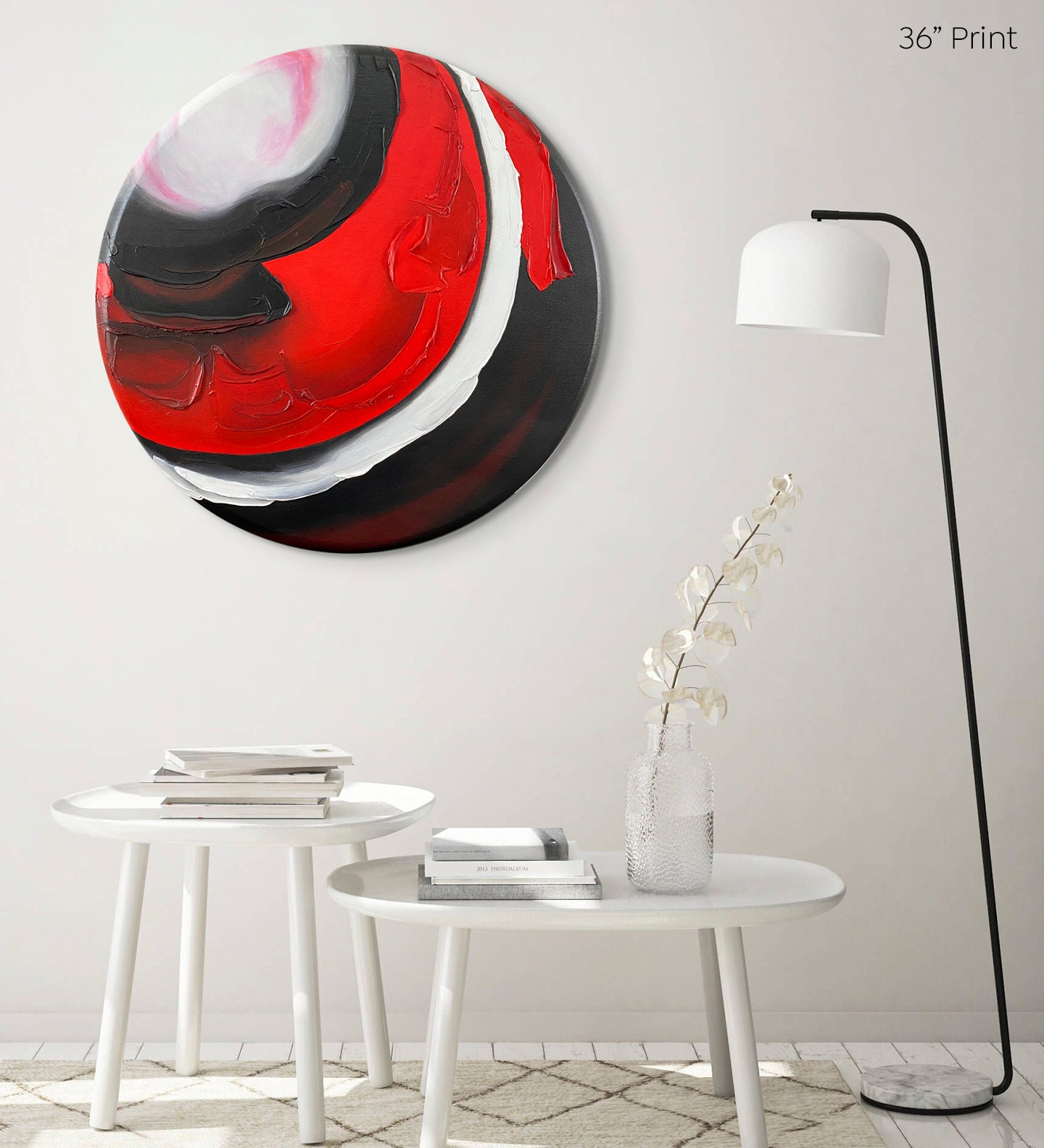 5% Shipping Rebate!

We know that shipping costs can be high. To make it easier, we give you a Shipping Rebate of 5% off the total value of your order (calculated on the product(s) you are purchasing before taxes and shipping). This discount will be automatically applied to your order at checkout. (5% Rebate example: A $2,000 painting will receive a $100 Shipping Rebate regardless of the cost of your shipping).

When will my order ship?

Original paintings are ready to ship within a few days. Custom print orders may take 4 weeks before they are ready to ship. There is only one company in the world that can make prints on these special curved-edge canvases — well worth the wait! Custom commissioned orders will ship as agreed when order placed.